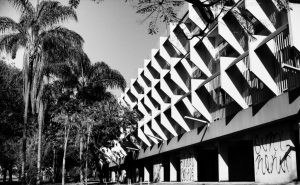 Image Fransisco Willian Saldhana
Our pic of the week this week is an image taken by our competition judge, Fransisco Willian Saldhana, who is judging our latest competition entitled, 'Contrast'. As you can see, he is very well able to judge that competition, his image shows a fabulous example of tonal contrast in the architecture.
Francisco Willian is an Information Technology Analyst in Brasília / Brazil.
A quick check on Google (other search engines available), reveals the respect and admiration that Fransisco has among the photographic fraternity. The internet is saturated with his images, some he has posted for interest, some collections he has curated and the range of different genres he has captured is incredible.
Although modest about his achievements, Fransisco is clearly a talented photographer.
All he will say about his photography, is that he enjoys capturing life on the streets of Brazil, where he lives. The stories he manages to put into his images from the people and places around him are a collection of ordinary and extraordinary moments, a visual diary, a collection of memories – his own and those of the people and places around him.
For more information about our competition and to enter, please go to our competition page: www.thephotographicangle/competitions