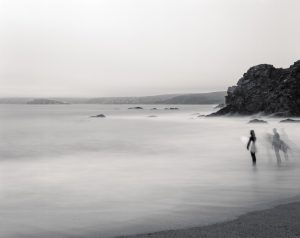 Image : Mike Langdon 'Surfing Memories'
This month we go back in time just a little and speak to Mike Langdon who was our Seascape Moods Competition Winner.
About the image: 'Surfing Memories'
The image was taken on a beach in South Devon called 'Hope Cove'. Mike had arranged to meet a couple of photographers there for a sunset shoot and he had arrived early to be able to set up his equipment.
The image took about 15 minutes to set up, using an Ebony RW45 wooden field camera. The exposure was around 30 seconds and Mike will always know this because he keeps notes in a notebook telling him precisely where, when and how his images were taken.
This image falls into the category of 'right place at the right time' as Mike was originally setting up his equipment for a different composition. When he saw the surfers get out of the water and stand at the edge of the beach, he grabbed his camera and dashed across the beach to get the best position to capture them from. The surfers were completely unaware of Mike's frantic efforts as they were trying to get the attention of one of their friends, who was still in the water.
The result of this happy accident, is this wonderful, atmospheric image that can be interpreted in so many ways. The judge said it has an ethereal quality and, choosing to produce it in black and white has removed distractions and made it a strong image.
About the photographer: Mike Langdon
Mike became obsessed with photography through a love of hiking the South West Coastal Path and Dartmoor National Park. His self-taught photographic skill was a result of wanting to capture the stunning landscapes and seascapes passing him by as he hiked through Devon. From taking images, he developed his skills and ventured into traditional film photography and developing and printing images in a darkroom that he created in his home. A background in engineering may have contributed to the success of these new skills.
Mike doesn't have a particular piece of advice for budding photographers. But he warns that information that can be found on the internet is often wrong or misleading, so he advises reading books that have been written by a photographer, and if you pick one that you admire, you won't go wrong.
There are many places in the world that Mike would love to visit, including Zion National Park in USA and Iceland. He is drawn to the wild, natural, out of the way places, where the sounds of wildlife and a beautiful landscape help to 'ground' and 'reset' a person.
Next on the list of places to photograph is Dartmoor National Park, to capture the beauty of the changing leaves as Autumn arrives. With the addition of the beautiful golden light that glows towards the end of the day, Mike hopes to capture some stunning scenery this year.
We hope you find some really beautiful, golden, Autumnal landscapes Mike and if you do, we hope to see them one day.
Thank you for taking the time to share with us how you were able to capture your winning image and also more of yourself as a photographer.