Shooting wildlife in its natural habitat is very demanding. Wildlife is elusive and photographers need expertise, patience and perseverance. Beginners can make a start by photographing fauna in captivity, or in your garden or local park. Practice controlling motion in the frame and varying the depth of field. You will be shooting in natural light only. Good destinations include national parks and wildlife reserves.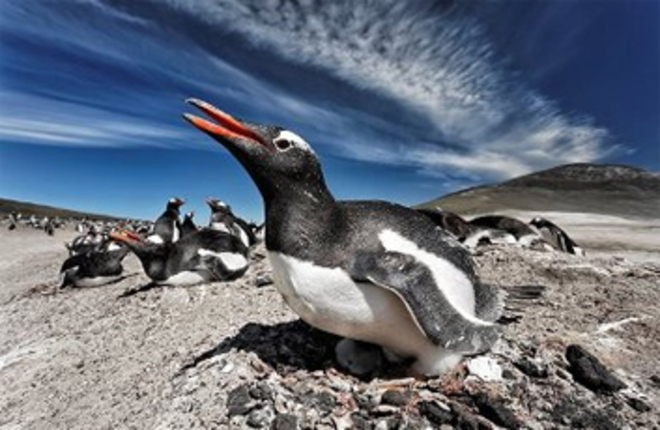 You need to be properly equipped for a wildlife trip overseas. A powerful telephoto lens is essential to shoot animals at a distance. With a full frame camera you can crop to fill the frame with your subject, without losing image quality. A backup camera body will prevent your trip being ruined by camera failure, and it will allow you to use two lenses at the same time without having to swap them over. Image quality will be higher with two lenses than with a single superzoom lens.
A tripod or a monopod can be very useful, but keep in mind how far you plan to carry your kit. Airline-style wheeled camera bags are a worthwhile alternative to heavy photo rucksacks. Take plenty of memory cards, a backup camera battery, a travel adapter and a torch. If you can, use a notebook computer to backup and review your images. Don't wait until you get home to discover some of your images are not as good as you hoped!
Research the species you plan to shoot using specialist books and online sources. Certain times of the day will be more productive. The mating season will produce strong images and the animals will pay less attention to photographers.
Many species are protected and you may need a permit to photograph them. A local contact is useful. Plan for all types of weather. Being cold or wet when you are waiting for an animal to appear is very off-putting.
Plan your timetable carefully and realistically. Some locations cater for photographers, and facilities such as hides are placed to give you every chance of getting the shot. It is well worthwhile getting to know the other photographers you will meet on your trip. They will usually share with you some good spots to shoot, as well as places to stay.
If you find you have set your sights rather high, try your luck at images of more common species. Wildlife competitions are won by photographers entering images of common species. The strength of the image comes from the light in the frame, the animal's behaviour and the background.
---
PART 2 Street Photography Overseas – Coming August 1st