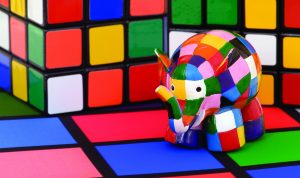 Image : Martin Parratt 'Elephant Hiding'
As an antidote to the traditionally dreary Winter weather we have in the UK, we are sending out our full spectrum theme, 'A Splash of Colour' to various venues this quarter – beginning next week in London.
This image makes me chuckle. I remember Elmer the elephant, protagonist of many a children's book, from when my son was in Primary School. It never occurred to me that the perfect place for Elmer to be camouflaged, would be with a collection of Rubiks cubes, which I remember from being a teenager.
Check out our Exhibitions page to see where 'A Splash of Colour' will be heading this quarter, and if it will be anywhere near you, go along for some Mid Winter colour therapy and inspiration.