One way to introduce drama and magic to otherwise familiar scenes is by shooting at night time. But this doesn't mean you'll be shooting in complete darkness, you'll still need a source of light.
Start with relatively bright urban scenes to practice hand holding your camera at night. Your main concern will be preventing camera shake, the blurry effect in your photograph caused by the camera moving when the shutter is open. You can reduce camera shake by using a short focal length lens, e.g. an 18-24 mm wide-angle lens. Then increase your ISO, and select a wide aperture (small F number). Many attractive night photographs are taken with the combination of street lighting and the last rays of light in the sky. To start with, try shooting scenes lit by the warmth of the sun after it has dipped below the horizon.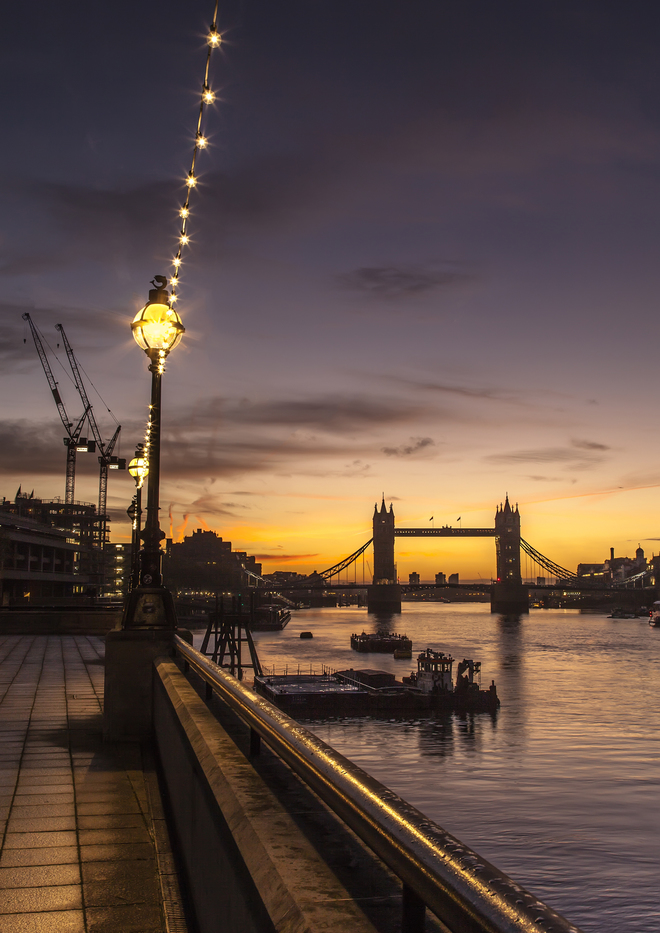 Paul Stone, Tower Bridge, London, England.
For really sharp pictures you will probably need a tripod. You will have the choice of the full range of apertures, slow shutter speeds and high quality ISO settings with very little camera shake. Floodlit architecture is a good subject to help you develop your technique.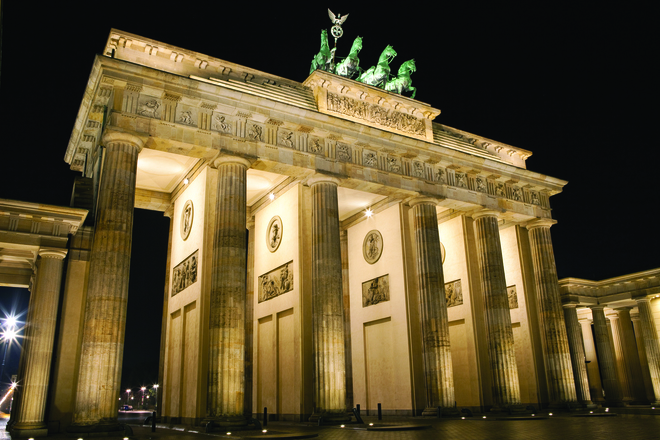 Chris Dorney, Brandenburg.
You can still get some camera shake with a tripod because your camera vibrates slightly when you press its shutter. For the sharpest architectural scenes use the self-timer built into your camera; the few seconds delay before the shutter fires will allow the camera to settle after you have pressed it. And you'll need a remote release for motion shots where the timing of the shot is critical, i.e. light trails created by vehicles.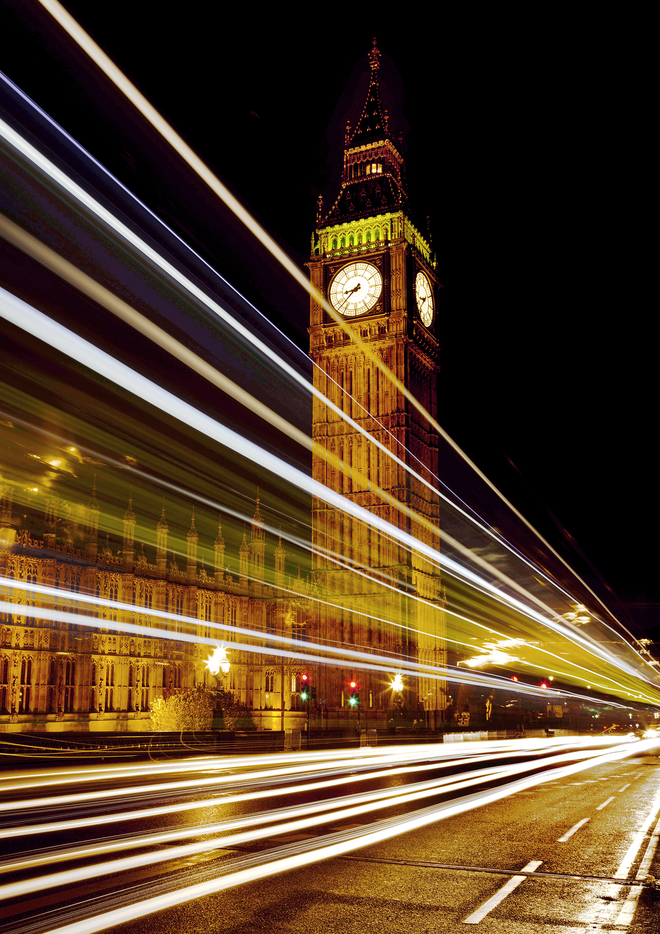 Paul Stone, Big Ben, London, England.
Winter in Britain is often associated with dark and wet evenings, in other words, a perfect time to take photographs! It's a great time for candid portraits, the passers-by are preoccupied with getting home and they pay you little attention. Wet streets reflect the lights above which adds to the composition of your photograph.
Peter Kilminster, 5PM, Bristol, England.
Fire is always an attractive subject. When photographing fireworks zoom in to fill the frame, and catch the display in the sky at the moment when they appear to hang still before falling. Firelight is a wonderful way of generating emotions in portraits.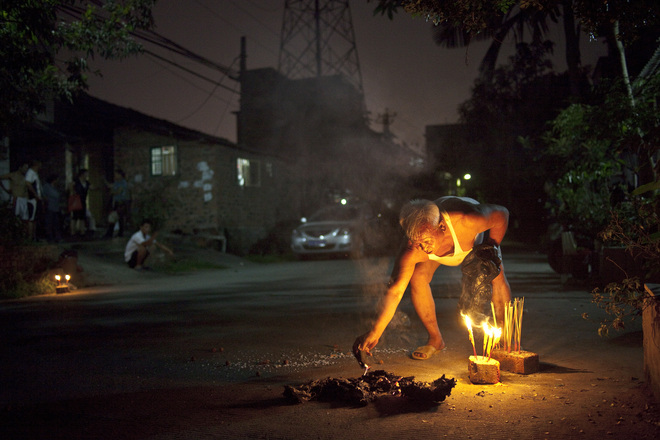 Wu Hao, Old Man, Nanning.
Your camera's meter may struggle to expose your photograph accurately in very low light. For exposures longer than 30 seconds use the camera's bulb feature, which keeps the shutter open for as long as you keep the button depressed.
The silhouetted figures in the photograph below appear vulnerable because of their size within the frame and their presentation as silhouettes. An exposure of 1/50th of a second was chosen to freeze their movement in the stark lighting, a fairly fast shutter speed for night photography.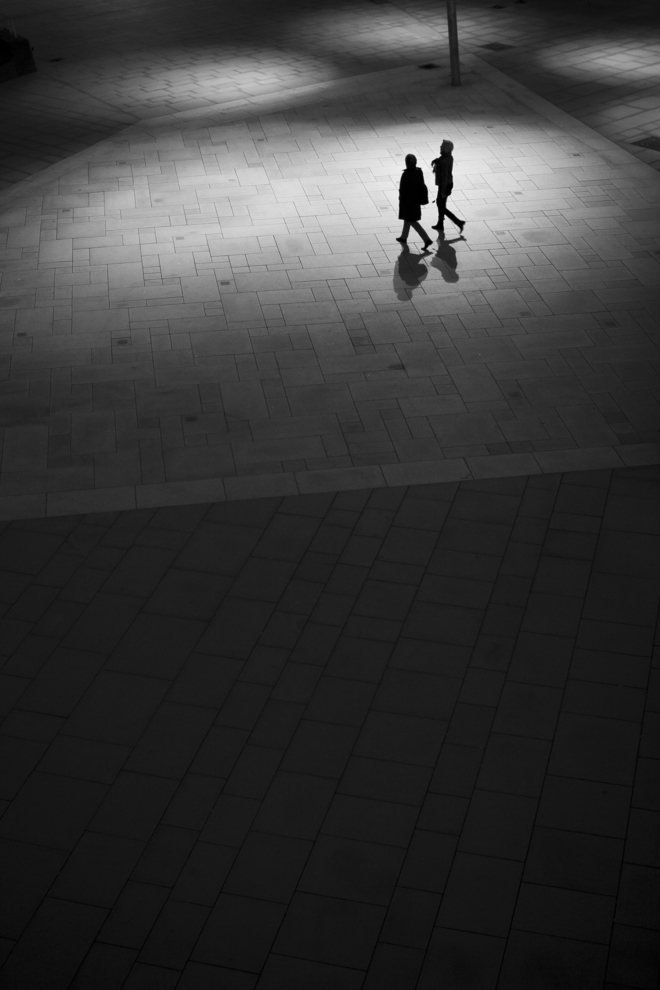 Henning Pettersen, Silhouettes of Oslo, Norway.
Use a remote release for very long exposures, for instance when photographing the moon. You can lock the shutter open with a remote release. Take a series of photographs taken at different exposure settings until you are happy with the results. With practice you will find it easier to assess what shutter speeds would work best.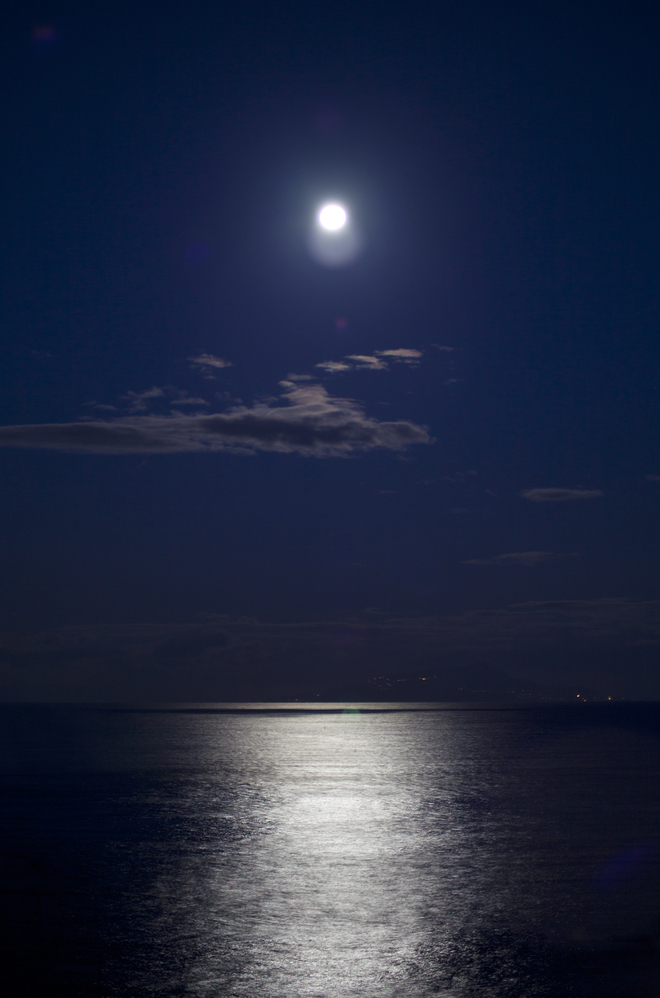 Paul Chapman, Moonlight, Italy,
After a long night's shooting, the very first morning light has a distinctly blue tint, which can add atmosphere and grace to your images.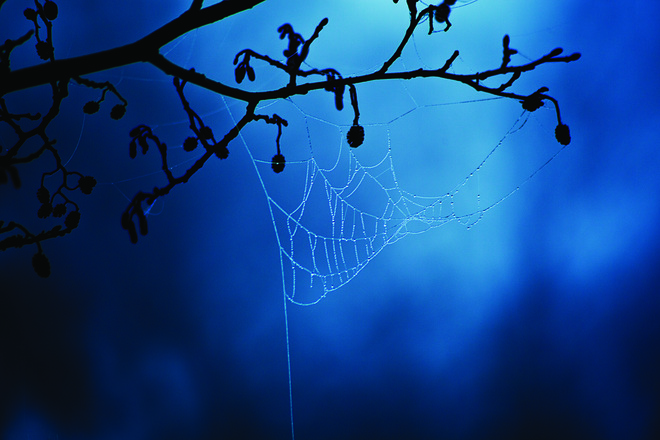 Paul Chapman, Blue Hour.
Very long exposures can produce noise in your photographs, a subtle, random variation of brightness or colour. See if your camera's menu choices include a noise reduction setting, or correct it by photo editing software afterwards.