Today we are featuring a guest post by one of the photographers whose work is currently being exhibited in our Wildlife of the World exhibition.
Len Deeley is an accomplished diver and underwater photographer who can trace his beginnings with the medium back to the early 1980s. He began diving back in 1970 when he was in the Territoral Army, but it wasn't until he became a member of the Billericay Sub Aqua Club (1620) in 1980 that he really settled into serious diving. A year later he joined the British Society of Underwater Photographers which has helped him to develop his underwater photography. However, Len strongly believes that underwater photography requires the right kind of diving and as a result he formed PHOTOSUB Underwater Photography Club in 1988 and the club now boasts approximately 50 members.
Len regularly gives talks and lectures on underwater photography and organises diving trips for underwater photographers to locations worldwide, such as Red Sea, Indonesia, French Polynesia, Galapagos, Cocos Islands, South Africa, Mozambique, Philippines, Cuba, etc.
Anyone can get involved with underwater photography and there is a wide range of underwater cameras or cameras with housings that are available on the market from beginner to advanced level.
When it comes to equipment, there is a wide range of options from compact cameras to aquatic cameras and high-end cameras in housings. Flashguns are essential and off camera guns are the best option.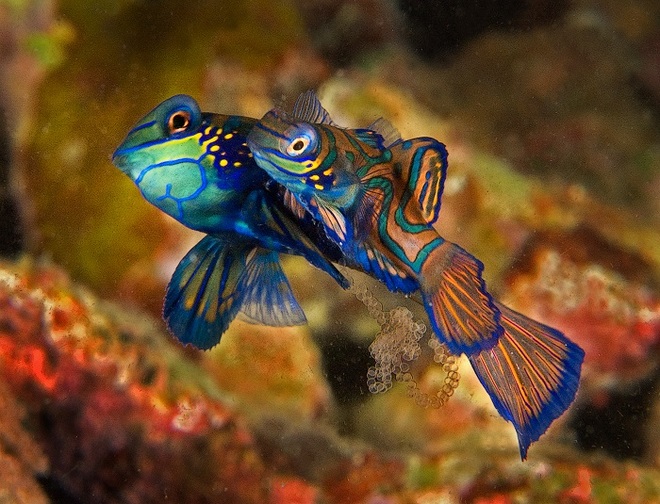 Mating Mandarin fishes taken by Len Deeley in Puerto Galera, Philippines
The most important thing to know about underwater photography is the need to be a diver with reasonable competence. I always advocate that an underwater photographer needs to be a diver first and then a photographer. Good diving skills are needed to control buoyancy and be relaxed in the environment, so it is important that anyone interested in taking images underwater while diving needs to be qualified to at least sports diver level. Of course photos can be taken snorkelling but this is much more limiting in the photographic possibilities.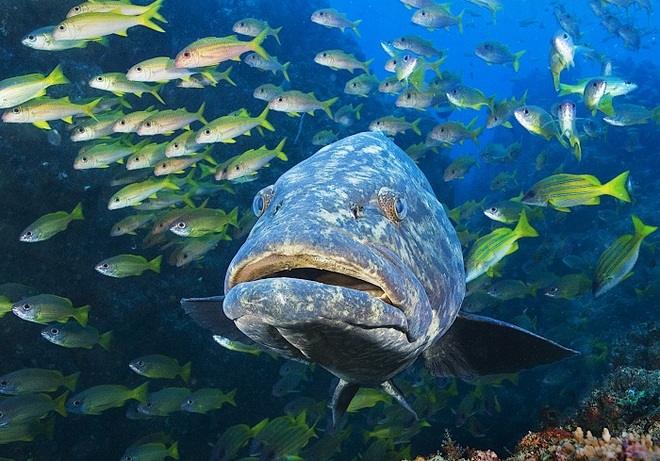 Potato Grouper with Snappers and Goatfishes taken by Len Deeley in Mozambique
Fundamentally, there is no difference between taking images above and below the water. However, there are a number of things that need to be dealt with. Light is filtered in water from the red end of the spectrum so colours are lost progressively with depth. Flashguns are necessary to bring out the full colours. Unlike nature photography on land where long lenses are often required in the aquatic environment, creatures need to be photographed close up as flash light will be filtered at a distance. So macro and wide angle are the most common lenses. Composition, on the other hand, is the same whether on land or underwater. The same guidelines apply (or are there to be broken).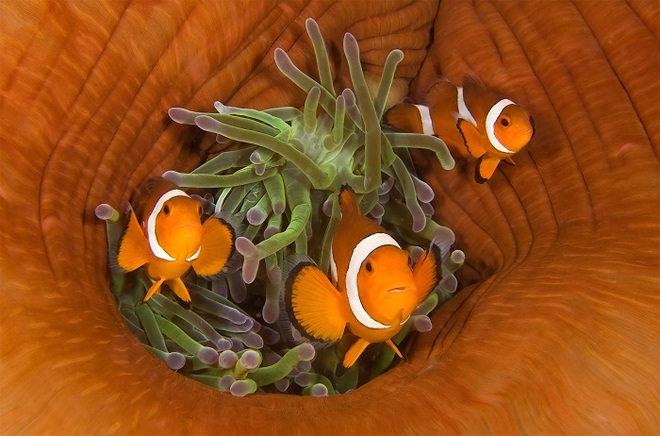 Three Clownfish with a Closed Sea Anemone taken by Len Deeley in Dumaguete, Philippines
When starting out in underwater photography there aren't really any specific locations that I recommend for beginners. As a diver, wherever the person feels comfortable will offer opportunities. Having said that, conditions are obviously easier overseas in places such as the Red Sea, Indonesia, etc.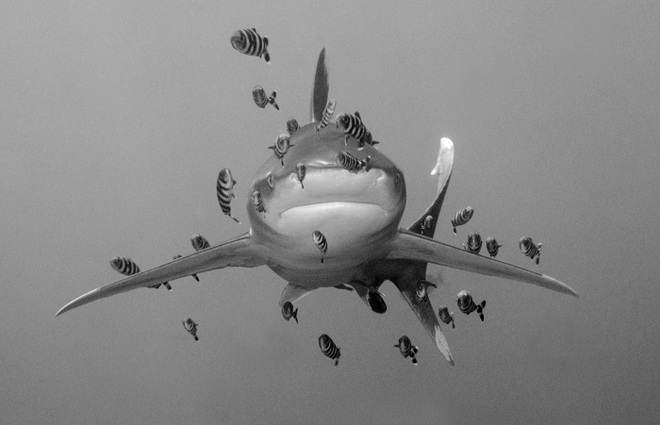 Oceanic White Tip Shark with Pilot Fish taken by Len Deeley in the Egyptian Red Sea
For beginners, one of the most important things to bear in mind is patience. If you chase fish, for example, you will normally get images of their tails. Once at home in the environment, many creatures are not threatened by a diver. With experience one also gets to know which creatures, including invertebrates, are most photogenic. It is important to dive within one's dive abilities with regard to depth and sea conditions. Concentration on the photography should not be at the expense of keeping control of your dive time, air consumption etc..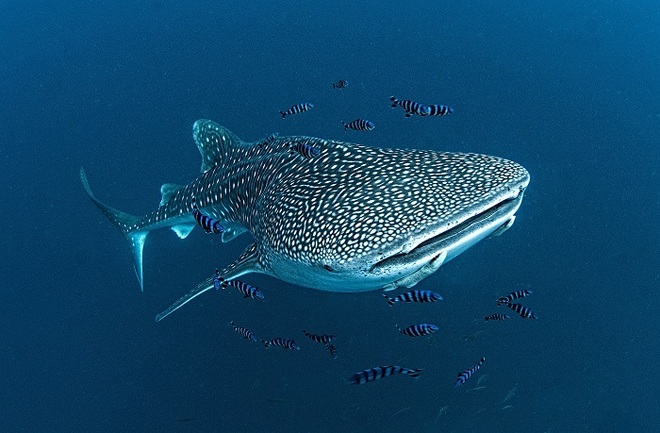 Whale Shark With Pilot Fish and Remora taken by Len Deeley in Djijbouti, Gulf of Aden
My advice to beginners would be firstly to gain dive experience. British Sub Aqua Clubs in the UK can provide training as can PADI organisations throughout the UK. The British Society of Underwater Photographers meet each month in London and offer a great opportunity to mix with other underwater photographers of all experiences, including some of the most well known in the UK. There are a number of underwater photography clubs in the UK, for example Photosub which is based in the south east of England. Both have websites to gather information.