Jophel Botero Ybiosa's image 'Flow of Fun' won first prize in our FLOW competition
Last week on our Facebook page, we announced the long awaited
results
of our photography competition
FLOW.
With over 500 entrants to the last theme in the Footprints series, our judge Steve Bloom, himself an award-winning photographic artist, really did have his work cut out. Luckily for Steve, we were able to whittle the entries down to a shortlist of 40 images before he was tasked with selecting those lucky participants whose work was to feature amongst the winning images.
Jophel Botero Ybiosa (above) was awarded first prize for his image 'Flow of Fun' and judge Steve Bloom said: "This picture shows the photographer's exceptional luck and timing. The children in the water appear to be enjoying themselves, seemingly oblivious to their hazardous situation. They are caught up in the flowing torrent, while behind them the bus moves quickly. The slight motion-blur of the bus emphasizes its speed. The boy's head is framed by the wheel, adding a sense of danger, and the composition is further enhanced by the oval pattern on the bus which frames and points to the boys, increasing the tension in the composition."[short]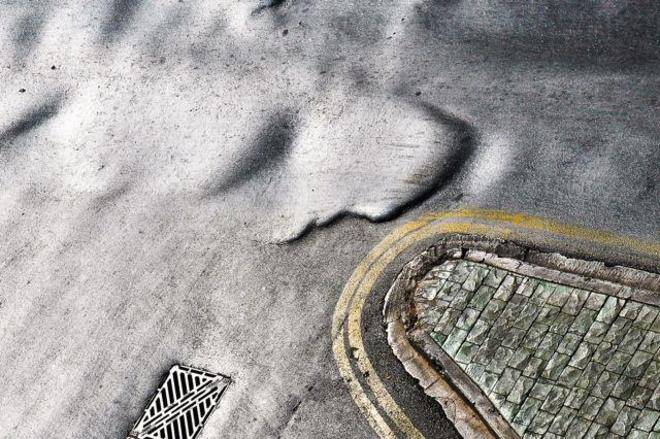 Tony Guy's image 'Traffic Flow' was awarded 2nd Place
In second place, was Tony Guy for his image entitled Traffic Flow (above). "This photograph depicts a slow flowing road, bringing our attention to the continual movement of all matter, including that which we normally regard as static," says Steve. "The composition is balanced well, with the yellow lines and section of pavement giving meaning and context to the image. The fast-moving traffic which may have contributed to the lava-like flowing road cannot be seen, but the viewer can imagine the hustle and bustle wearing down the slow shifting road."

'Washed Away' (above) was the title of the entry that Steve selected for third place and it was taken by Rajat Toshniwal. Steve says: "This picture is about people meeting together as the water flows around them and over their feet. It has a dream-like quality, soft and slightly
blurry. There is a neat symmetry to the composition and it reminds the viewer of the transient nature of all things. The fact that they are standing in the water means that they will not be together for long, and will soon go their separate ways."
buy xenical blocks enzymes which split fats, and therefore they are excreted intact in several hours after eating. Protein and some amount of carbohydrates which cover the needs of the body to keep energy are only digested.
There were also two entries that were selected by Steve as highly commended and five that were commended. To see these entries please head on over to our Facebook page. If you are thinking about entering your own photographs to one of our competitions, please visit our competitions page where you will find more details of our current competition: Change.