Vernacular photography or amateur photography refers to the creation of photographs by amateur or unknown photographers who take everyday life and common things as subjects.- (wikipedia).
"Aesthetically unpretentious, generally functional images made by amateur snapshooters or grass-roots professionals"- Robin Lenman.
Examples of vernacular photography are: Family Snapshots, Travel Photos, Photo Booth, School/ID Photos, Amateur Portraits, Souvenir Type Photos & Works by Itinerant Photographers
Invented in France and England in the first part of the 19th Century, Photography was for a long time stuck in the portrait studio where the upper classes went to have their picture taken. Within months of Daguerre's 1839 announcement of his photographic breakthrough in Paris, many amateurs began experimenting with the daguerreotype process capturing their members of their families in what would be the first family photographs. By the 1890's there had been a tremendous rise in amateur photography with the arrival of smaller formats and more simple cameras to use. The family album was born, where visual fragments of daily life were collected and preserved.
This exhibition will attempt to explore the genre of vernacular photography.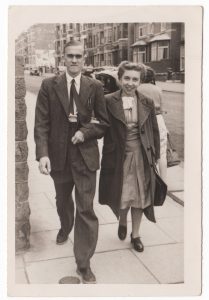 Young Love – Chris Cockerill
This theme was researched and written on for the The Photographic Angle by Malin Sjoberg, former assistant to the coordinator of exhibitions for MAGNUM photos Paris. M.Sjoberg is currently based in the UK and works both as a practitioner, specialising in historic photographic processes, and as a freelance photographic consultant having studied photography at Rockport College Maine, the Art Institute of Boston and several workshops under the tutelage of Scully & Osterman.