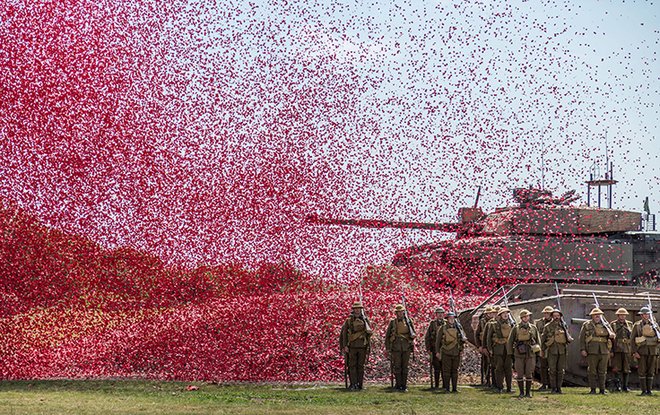 Sheila Haycox, World War i Centenary.
This week's Pic of the Week goes to Sheila Haycox, her stunning image depicting the centenary of World War i is a beautiful interpretation of the 'As Time Goes By' competition theme.
If you think you have what it takes why not enter HERE – competition closes
on 31st August 2015.
---
As Time Goes By
Throughout time, man has employed many ways of documenting the passage of time and recording history so that future generations can understand what came before them and how we evolved to be the civilisation we are today. From spoken accounts, and cave paintings, to ancient manuscripts, our records of time past have allowed us to share valuable information with our descendants.
With the advent of photography we have acquired a new way to record our autobiographical memories allowing us to freeze and record events in time and to recall those moments over and over again.In recent years, the development of automatic cameras and smart phones has democratised photography allowing it to become an important way of capturing not only important historical events but every detail of our lives no matter how significant.Parents capture images of their growing offspring almost daily to document the aging process. Similarly, we like to take as many photographs as possible of our older family members before they are no longer with us and those memories become but a hazy recollection of a person who once meant so much to us.
The passing of time can be recorded by photography in many ways. A long exposure can be used to capture the effect of time on an image, whereas a short exposure is used to capture an instant of time. High Dynamic Time Range images can capture the passing of time by combining many photos taken over a long period of time, such as a day or even longer. Time lapse and stop motion photography allow us to capture a process that occurs over a period of time and then allows us to speed up that process.
The theme of this competition is very open and very broad. It has a lot of scope for creativity. We look forward to seeing your interpretation of 'As Time Goes By'.