Are you feeling a bit stale and lacking in inspiration? You can stimulate your creative juices by undertaking your own photographic project. You'll get more familiar with your venues and settings, and you'll find out how best to photograph them in different light and weather. Tip: write a project plan so that you can monitor your progress.
Water is a great subject for a project. Crashing surf and pounding waterfalls I exotic locations are dramatic settings for shooting water, but there are plenty of alternatives for you to consider. Realistically it makes more sense for you to take advantage of a few spare hours each week by finding water based subjects closer to home.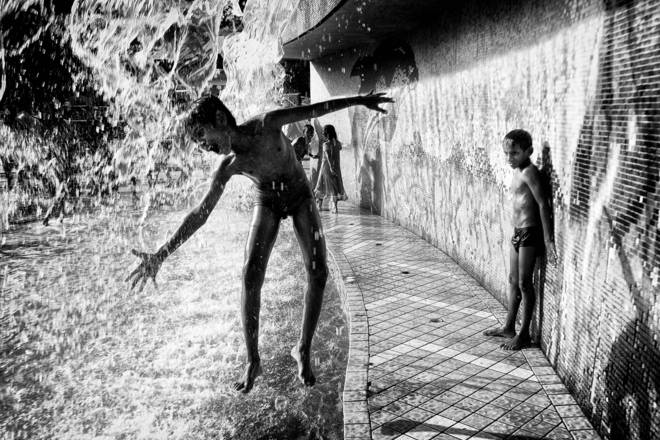 Vinod Babu, Water a Medium of Joy
Taking a camera with you at any time is a good idea, but photography on an overcast day is often hard work, and the results can be disappointing. But running water you will provide motion to shoot, as well as variations of light and reflection. Do worry too much about bringing the right kit, you can photograph water with any camera and any lens in every season and every time of day! Tip: keep in mind water is potentially hazardous to camera equipment so think carefully before taking risks.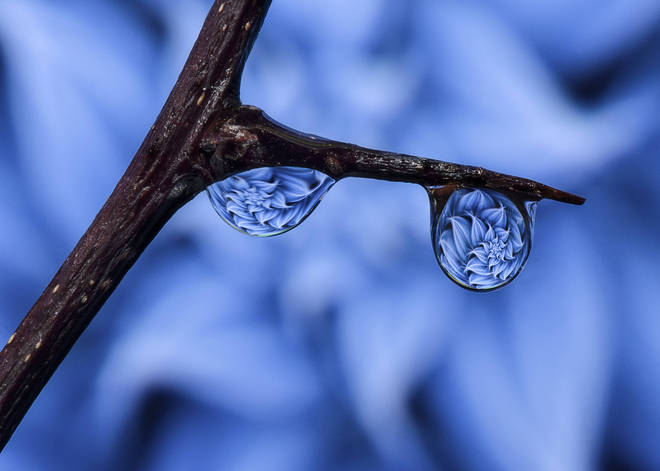 David Wood, Blue Shining Water Drops
Some great photographs can be taken on wet days. Matt surfaces become reflective, like wet cobbles. Leaves shine with water on their surfaces, and water on petals can transform an image with the convex surface of the water droplet reflecting the location. Tip: these images look best when they are very sharp so it's best to use a tripod. You can provide the droplets of water!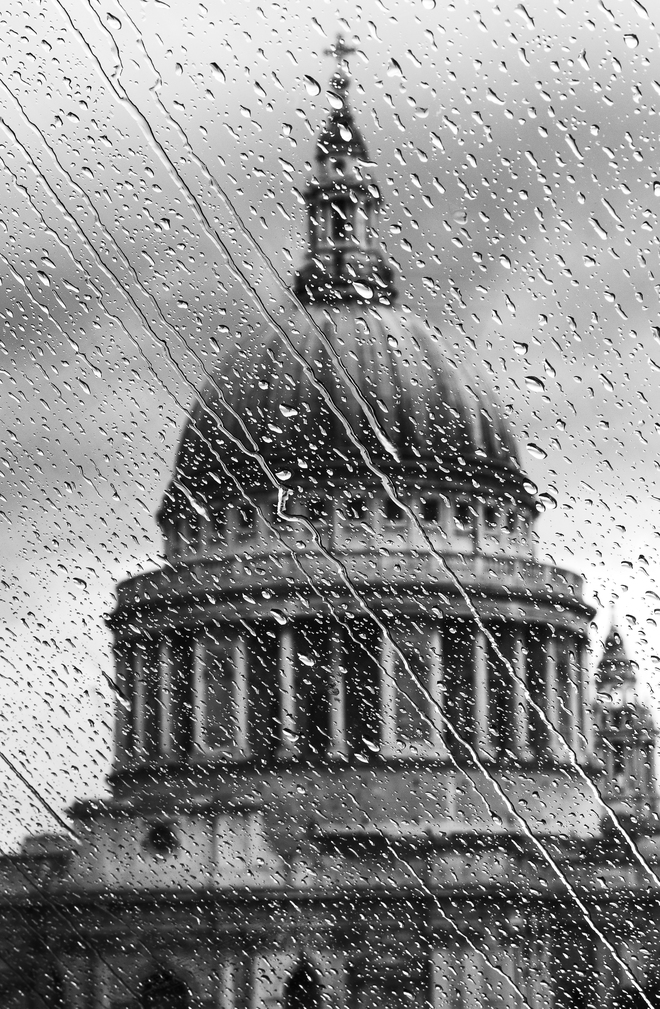 Liliana Danovaro, Rain
With their umbrellas shielding them from the rain, nobody notices the nearby photographer when they are hurrying home. If it's very wet you'll need to keep your equipment dry, so try creating an impressionist street scene image by shooting through a window covered in raindrops. Tip: pop into a cafe and choose a table next to a window. You can use the table to study your camera and you'll get warm as well!
Seascapes are universally popular. The best light is usually at the beginning or end of the day, and don't feel you always need bright sunlight. On a stormy, showery day the surface of the sea can be illuminated by pools of silvery sunlight, together with a brooding sky overhead. Tip: try shooting with a very slow shutter speed of to produce images with a dreamy, soft effect. A neutral density filter will be needed for a 10 second exposure.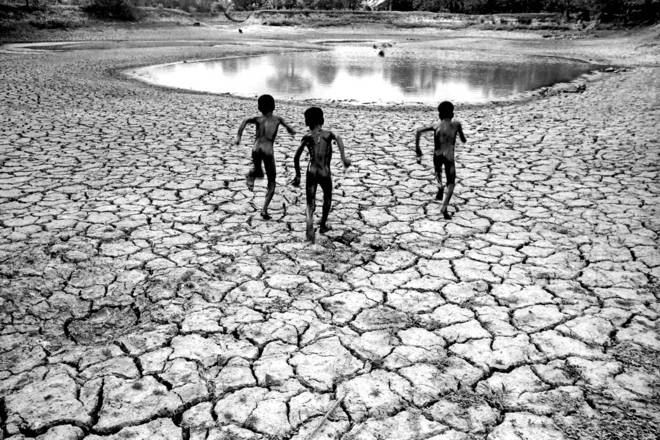 Debashis Mukherjee, Life and Water
You can catch some great reflections on lakes and slow-moving rivers. You'll need a fairly still day, so check the forecast before you leave home. When it's completely still you get mirror-like reflections, which add pictorial interest on the water surface between the two shores. If you prefer a slightly distorted reflection then introduce a little movement of the water's surface; that's not hard to do, is it? Reflections in puddles in derelict streets produce an attractive tension between the drab surroundings and the creativity of its reflection. Tip: keep in mind water can be very slippery so go for sensible footwear.
Adding human interest to your water based shots can add immediacy and intimacy. Many city centres have installed ornamental fountains and seating in their city squares, where families interact with each other and children run in and out of the water jets. If you photograph against the light and meter for the brighter areas the children will be captured as silhouettes, which preserves their anonymity. Tip: often the best shot is of the people sitting on benches watching the action.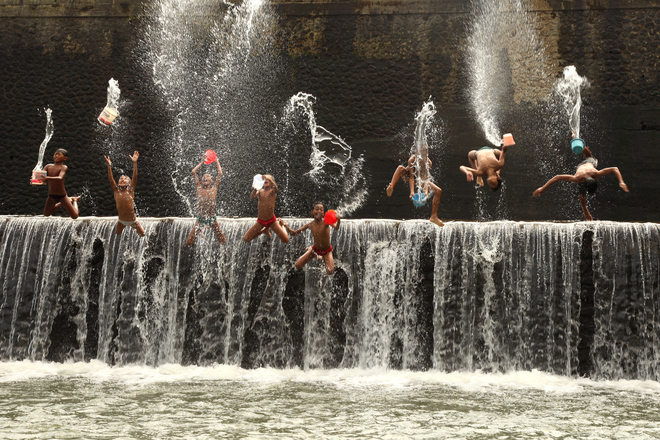 Chee Keong Lim, You Jump I Jump
Water is arguably the world's favourite recreational medium. Much of our leisure time and a lot of our discretionary income is spent in or near water. People undertaking water sports expect to be noticed and are often indifferent to photographers. You can start by searching the internet for venues in your area, such as man-made canoeing rapids. Many of the best photographs are taken using a telephoto lens to get close to the action. Some of the best sports images capture dramatic facial expressions and body language. Tip: you'll need a shutter speed of 1/600 second or more to freeze the action, and a narrow depth of field e.g. f4 to make your subject stand out from the background.
People forget themselves when they are having fun. Engrossed in their activity, people become more relaxed and you can capture their and personality and interactions.
Photographs of a narrow boat moving through a lock gate illustrates the calmer pace of life prior to the development of railways. Try shooting a gardener in a public park watering plants, or vehicles speeding through floods. Tip: you can strengthen the sky in your image by using a polariser filter, you need the sun over one of your shoulders to get the best effect.
Water can also be photographed in your own house. You may have seen photographs of droplets of fluid falling into water, close up it produces a small explosion. You need a very fast shutter speed to capture the action, start with 1/500 second. The lighting needs to be very bright on the subject. You can add colour to your photograph by using food colouring. Tip: you need to be patient and do take lots of images, with experimentation you'll get some dramatic results.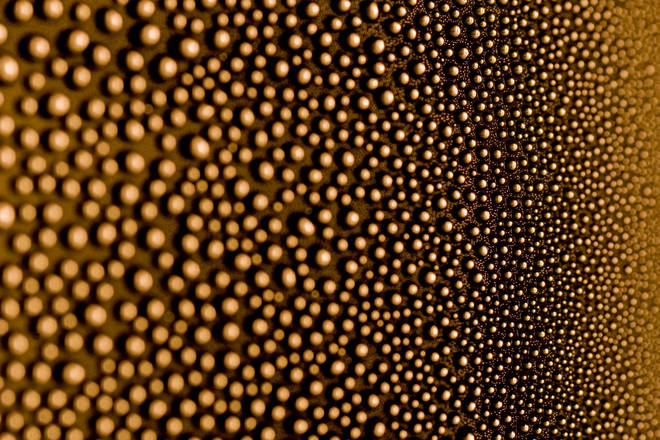 Andre Boto, Water Drops
Steam is very evocative. Railway photographers often make sure their trains are partly obscured by steam, they look more real and purposeful. Busy restaurant kitchen shots are more dramatic with steaming pots and pans. Tip: some photographers cheat by creating the effect of steam with aerosols!
Water photography comes into its own in winter with the arrival of snow and ice. Trees in your local park will be transformed. You need to start at first light unless the temperature is well below freezing. Don't forget the intimate details of icicles and snowflakes, and frosty breath on cold mornings. Tip: your camera is likely to underexposure shots of snowy scenes. Try setting your camera's exposure compensation dial to overexpose by 2 stops.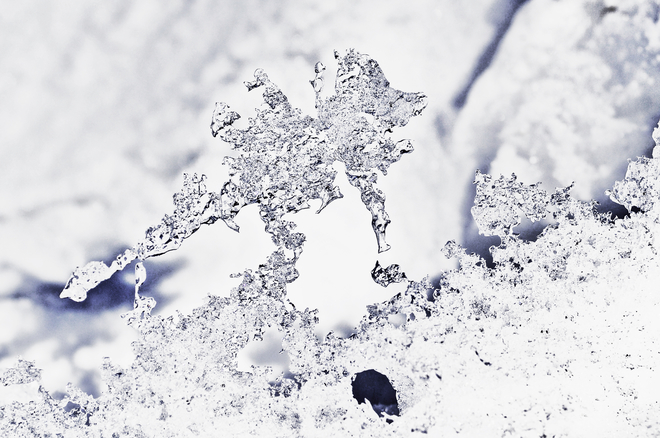 Bernabe Della Mattia, Flow the Construction