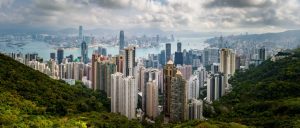 The Winning Image
The image was taken from the viewing platform at the top of Victoria Peak, Hong Kong looking back down towards Hong Kong harbour, when Chris and his wife were there in April 2018. They were on a brief stop-over on their way to Australia, where Chris' brother-in-law was getting married.
As it was a brief stop-over, it was fortunate that the weather and light conditions at the time meant that the image only took a minute or so to capture. Post production however, took a little while longer, although half an hour to create this amazing image is pretty good!
The image is a stitch of 5 individual frames, taken using a 24mm tilt-shift lens, using the shift function to pan across the landscape without moving the camera. Using the lens in this way produces a panorama without the distortion that can happen when moving the camera. A handy tip, thank you Chris!
Chris Jones, the Photographer
Chris is a professional physicist who has always liked creating artistic effects, using his knowledge of science and technology. He confesses that his artistic ability is not so good, so his creative outlet is photography, where he can use his love of technology to capture images.
He reveals that he has been involved in a considerable amount of theatre lighting design. This is where his knowledge of light and how it behaves in different situations and his skill in using this knowledge has been honed. He also puts this experience to good use when using the technology now available, which can be used to create something that people want to look at and that will hopefully produce an emotional response.
Chris says that the best piece of advice he has been given as a photographer is to take time to study the light sources and how they are impacting the scene, before taking a photograph. It's all about the lighting!
When asked where in the World Chris would like to be able to take photos, he says that he would love to go to Antarctica. An unusual response! But, as he explains, his sister is a scientist who studies penguins in Antarctica and she apparently has taken some amazing photographs there, so Chris would like to go there himself.
Congratulations to Chris and his wife, who had their first baby, a little girl, this Summer! While this means that Chris always has a subject for his photography on hand, it also means that travel plans have had to be put on hold for a little while! So, Chris is going to head out in his local area of South Oxfordshire, to see what he can find to photograph there.
Thank you Chris for taking the time to answer our questions. It has been a pleasure to learn more about you as a photographer and about this stunning winning image. Congratulations again on being our Competition 1st prize winner and we hope to see more of your work – especially penguins in Antarctica!